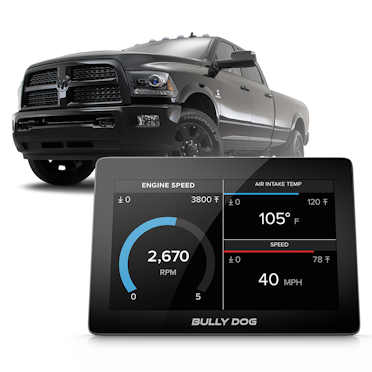 OUR MOST ADVANCED SCREEN EVER
Bully Dog's 5" capacitive touchscreen is the first of its kind. Graphics and gauges are displayed in brilliant HD color, rivaling today's smart phones. GTX Watchdog starts up incredibly fast (even when remote starting the vehicle), and provides an ultra-responsive user experience. A fully customizable user interface means your perfect gauge layout is available at the touch of the screen. GTX Watchdog comes standard with a convenient grab n' go magnetic mounting system, enabling drivers to keep their device front and center–and then stowed away in seconds.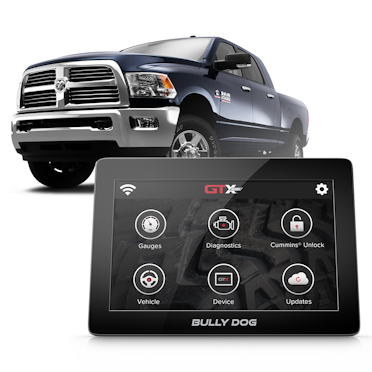 DIAGNOSTICS & DATALOGGING
The lightning-fast GTX Watchdog gives drivers the ability to monitor the industry's most extensive SAE and Cummins-specific engine and transmission parameters, in real time. Unlike competitors, the GTX Watchdog provides monitoring capability of the Aisin & 68RE transmission, as well as chassis cab vehicles. The device's datalogging capability makes it easy to record vehicle performance and play it back with Bully Dog's free LiveLink software. GTX Watchdog also doubles as a diagnostic tool with the ability to read and clear diagnostic trouble codes (check engine light). With integrated WiFi capability, GTX Watchdog is always up to date.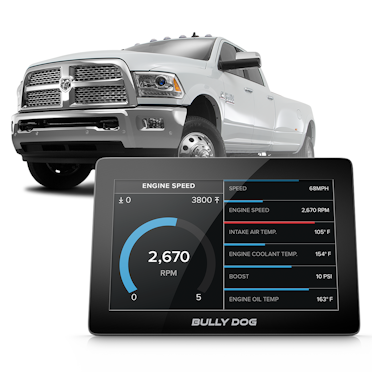 CUMMINS UNLOCK ENABLED
With the included Bully Dog Cummins Unlock cable, 2013-2016 Dodge Cummins owners can use the GTX Watchdog to unlock their truck's computer for tuning. Bully Dog's BDX and GT Diesel offer preloaded tuning for the 2013-2016 Cummins. The Unlock provided by the GTX Watchdog is also compatible with other custom tuning solutions, enabling drivers to choose the best option to match their needs. Bully Dog does not currently offer custom tuning for Cummins.